Matthew apartments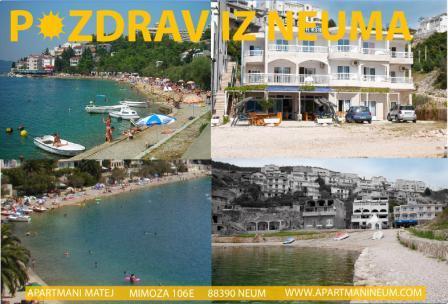 Matthew apartments (www.neum.hr) Situated on the coast in the city symbolically called "Silent Place", our apartments are ideal for those who want to enjoy a relaxing family atmosphere, and thereby be in touch with developments and boiling Raspjevanom summer schedule and the town of Neum.
"Matthew apartments," the location on the beach provide a comfortable and carefree holidays to everyone, especially parents with small children and elderly and / or persons with disabilities. All our guests from apartments to share access to the sea just 20 meters away without external steps or road.
The apartment building is located in a coffee bar and restaurant. Parking near the house is free for all our guests.
Accommodation facilities are great, so we are able to accommodate tourist groups of fifty guests.
Apartments are fully equipped and are divided into studio apartments (2 +2) and apartments.
Weather forecast for Ploče