Rafting on the River Zrmanja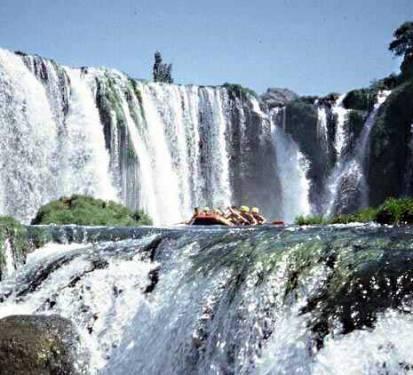 The Zrmanja won the hearts of its beauty to all who view it, now - at first glance. Its crystal clear stream winds through the 200 meter deep canyon. There is a river created many travertine waterfalls, one of which is a huge Buk, 11 meters high waterfall, incredible beauty (it bypasses the foot - not to bother :-)...
Beauty and the Beast ...

Zrmanja a mile from the river which is called "Beauty and the Beast." When it rises it provides one of the best rafting in this part of Europe (and beyond). And when the quiet, beauty who becomes easily carries us through the breathtaking landscapes with their beauty. The river is rich in fish, birds nesting on its coasts. A rock station in the spring gardens from which to "slap" down the plant colorful flowers. In any case, the river that is "must see" tour on the river Zrmanja Žegar moving from place and leads to Muškovci ...

When is the best?

Zrmanja thanks to the sea, suitable for rafting all year round (when the water level is high enough). Rafting can not go when it blows a strong wind (Bora). The month of May is certainly the most attractive, rafting is still enough exciting and nature is beautiful. But if you are a fan of the "hunter" of adrenaline necessary to catch and rafting on Zrmanja after heavy rain. The river then weight V, the waves are huge and in several places Brzice flows awe and experienced.I have to recommend a tour of the river Zrmanja Ervenik to place Žegar rarely has enough water but when there it is surely one of the best rafting trips in our part of the world. Rarely is active (due to water levels) but it is certainly the best rafting in Croatia.

Ecology ...

River Zrmanja can imagine as the finest lace. Namely, travertine barriers, creating the beauty of its very fragile. This is particularly true when they are dry during the summer. Watch out for this beauty and it will remain such for generations to come. But if the trend continues budget canoe trips during the summer but its primjetive wounds will be deeper and deeper ... On Zrmanja come with open hearts and will return home filled with the beauty of the heart ...
Weather forecast for Gračac