Vlasic BiH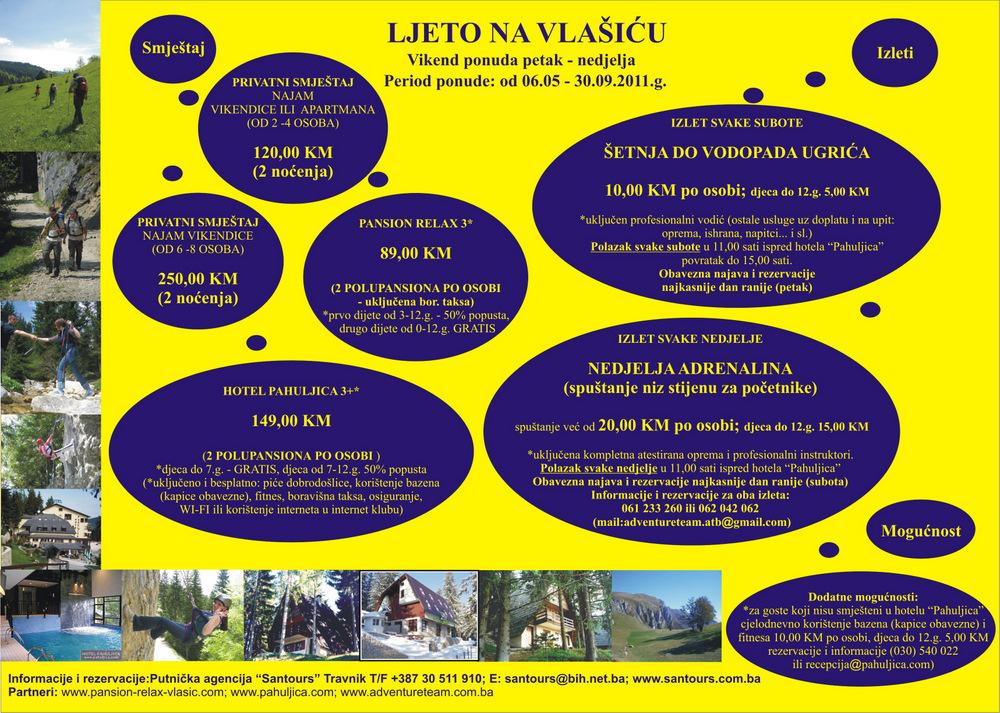 At the heart of Bosnia and Herzegovina is known mountain Vlasic. Located next to the old Bosnian town of Travnik, and equally close to several major Bosnian cities of Sarajevo, Zenica, Banja Luka and Jajce. As a climber and ski center close enough to other cities in Bosnia, and Slavonia, Dalmatia, Zagreb and other parts of neighboring states, has been recognized as an ideal resting and regional sports center for decades. Location is ideal as a reference point for touring all the sights of Bosnia and Herzegovina because it is located in the center and is very well connected by road with major roadways.
Mount Vlasic was named after the ancient nomadic Vlachs Opaljenik with the highest peak (1943 m).
It is located in the central part of Bosnia and Herzegovina, and most of the Vlasic mountain belongs to the municipality of Travnik.
Vlasic - it's a massive mountain plateau with a 500 km2 area (one of the largest mountain plateau in Bosnia and Herzegovina, with 5 rivers and a myriad of sources (most aquifer) with peaks Opaljenik, P., Cavo, Vlašićka gromile that go up to 2000 m above sea level.
The mountain is rich in flora and fauna with a large number of sunny days and snow are also retains more than 5 months.
In addition to natural resources, the greatest value of this mountain is the position in the central part of Bosnia. Vlasic is equally distant from the Adriatic coast (approximately 200 km) and the major inland cities in neighboring countries, Zagreb and Belgrade (cca 300 km). Distance from Sarajevo, the capital of Bosnia and Herzegovina 120 km.
An exceptional geographic position puts this mountain in one of the most open in the Balkan mountains.
Natural beauty and attractive sites, rich cultural and historical heritage and favorable climatic conditions make this an attractive mountain travelers all year round.
In the heart of Mount Vlasic at an altitude 1260 m the ancient 60-ies of the last century established Sports - Leisure Centre Babanovac associated with Travnik (28 km) dvijema asphalt roads and makes the core development of winter tourism in this area.
Once known for the international competition in jumping named "Pokal Vlasic," with its 90 meter diving board, which belongs to one of the most southern and most natural ski jump in Europe, "Silver Snowflakes", recognition for the best kept winter resort in the former Yugoslavia in 1979, until 1992 was one of the leading centers of winter tourism in the former Yugoslavia.
After the war, sports - recreation center "Babanovac" restores its radiance, is experiencing an expansion in terms of several aspects of tourism development and is already in the top winter centers in Bosnia and Herzegovina and beyond.
Sports - recreation center "Babanovac»in winter, is especially suitable for recreation, and is optimal for a stay of families with children. In other periods Vlasic is the ideal destination for sports collectives, school trips, nature lovers, adventurers, and in the last few years Babanovac becomes a destination in congress tourism.
Vlasic is especially recommended for people who have health problems (asthmatic and anemic persons). Generally, for all those who wish to relax in a natural mountain environment. (Source: http://www.santours.com.ba/index.php?option=com_content&view=article&id=10&Itemid=11)
Summer Offer: http://vlasic_1.tripod.com/indexL.html
Weather forecast for Imotski